27th July, 2018: CEO of Health for Tonga, Dr. Siale Akauola and Executive
Officer of Vaiola Hospital in Nuku'alo, Filipe Taufa, gratefully received 25 electric hospital beds with mattresses donated by Castelmaine Health. Dr. Akauola indicated the beds were greatly needed. Not only will they increase the standard of care for patients, they will greatly assist nurses who are at risk of serious back injury when lifting patients in standard beds. The Dr. acknowledged the efforts of LDS Charities and Pacific Assist, and thanked Castlemaine Health for their generous donation. LDS Charities and Pacific Assist hope to partner with other hospitals in Australia to supply still-useful medical surplus to struggling hospitals in the South Pacific.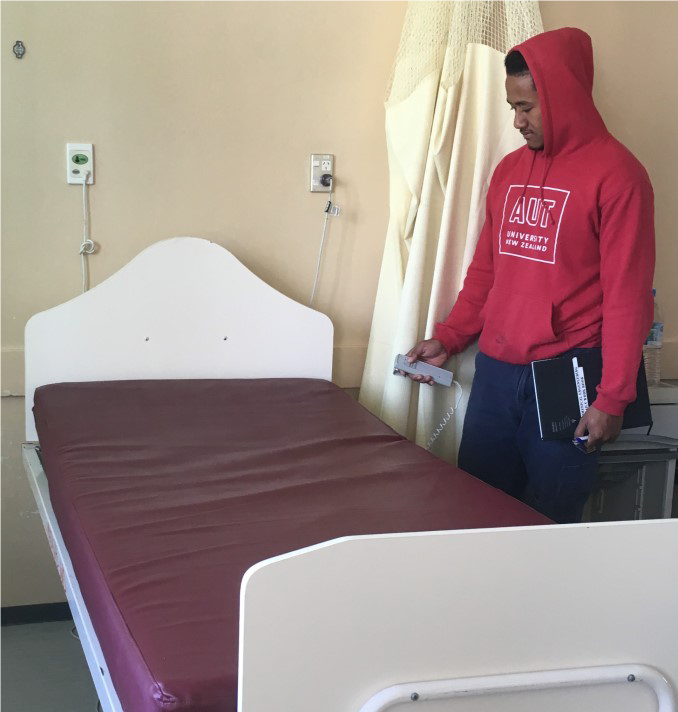 ---
VANUATU PRINCIPAL MENTOR PROGRAM COMMENCES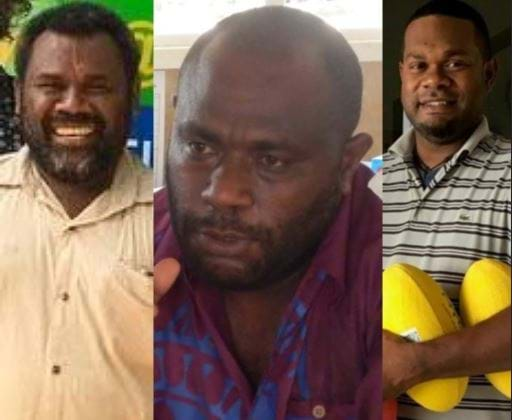 15th May, 2018: Port Vila and Victorian principals recently participated in the Vanuatu (Port Vila) Principal Mentor and Development Program induction. The induction is the first component of the six-month pilot program announced by Pacific Assist in February. The program is a partnership between Pacific Assist, LDS Charities, and the Vanuatu Ministry of Education. Vanuatu principals Haward Mala (Vila East Primary School), David Narai (Seaside Primary School), and Shem Saimon (Malapoa College), expressed deep appreciation for the opportunity to participate in the program. "I know this experience will give me a unique opportunity to improve the quality of teaching and learning in my school," said Haward Mala, principal of Vila East Primary School in Port Vila. Victorian mentor principals Rowan Kayll, Frank Vetere, and Justin Esler were just as excited. Mr. Esler, principal of Diamond Valley Special Development School indicated that this would be a two-way engagement, "As well as sharing our experiences, there is much that we can learn from the Vanuatu principals," he said. "How is it that they are able to achieve so much while operating with such limited resources? The answer to that question is one we can learn a lot from." Mentors and mentees will communicate one-on-one on a regular basis via email and online conferencing. As part of the induction process, Vanuatu principals identified specific challenges they faced that could form the focus point for their discussions with mentors.
Facilitator of the program, Andrew Jones of Huddle Learning Systems, explained that principals have been paired up based on the similarity of the circumstances of their respective schools. "While not exactly the same," said Andrew, "we have worked very hard to select mentors that are likely to be facing similar challenges and have schools of a similar size and age. For example, we've paired Frank Vetere, principal of Point Cook Secondary College, a high school of approximately 1,530 students, with Shem Saimon of Malapoa College, a high school with approximately 800 students."
In addition to their interactions with mentors, Vanuatu principals will participate together in three professional development workshops facilitated by Andrew Jones. These workshops will focus on teaching and learning challenges the principals have identified as important to them. "These workshops won't be a lecture." said Andrew, "They will be a discussion around what's happening on the ground in Port Vila, with insights gained from discussions with mentors and relevant research being added to assist the Vanuatu principals formulate strategies they believe can be applied to their local circumstances. The input of the Port Vila principals will form a significant part of the discussion."
LDS Charities humanitarian missionary, Deborah Roundy, who coordinated the induction in Port Vila, observed that when the two groups were introduced there was a tremendous feeling of excitement. She noted that, "The Port Vila principals feel a deep sense of commitment to their schools and to the future of Vanuatu, and they believe their participation in the program will empower them to enhance the quality of teaching and learning for their teachers and students." If results from this pilot indicate an improvement in teaching and student learning, then Pacific Assist and LDS Charities will look to broaden the opportunity to principals in other Vanuatu provinces, and to other Pacific Island nations. Director of Pacific Assist, Richard McLean, says, "If you really want to enhance self-reliance for an individual, a family, or a community working with them to determine their own solutions to meet educational challenges is fundamental. That's what this program is all about."
---
Facilitator Andrew Jones listens via video conference during the Vanuatu principal induction; Sophie Ravo (Assistant Principal) & David Narai (Principal) Seaside Primary School, Port Vila; Rowan Kayll (Briar Hill Primary School), Frank Vetere (Point Cook Secondary College), Justin Esler (Diamond Valley Special Development School), & Andrew Jones (Huddle Learning Systems) during the mentor induction; The mentor team: Rowan Kayll, Andrew Jones, Justin Esler, & Frank Vetere.
---
TONGAN HOSPITAL TO RECEIVE HOSPITAL BEDS
5th May, 2018: Pacific Assist volunteers recently loaded 25 still-useful electric hospital beds in readiness to be shipped to Tonga. This was the culmination of conversations the Pacific Assist team had during their recent visit to Vanuatu, where they were advised that some hospitals in the South Pacific had a need for additional medical equipment and supplies. Not long after returning home, Pacific Assist Director Richard McLean was contacted by the chief engineer at Castlemaine Health, Rod Woodford, who indicated he had a significant number of still-useful electric hospital beds the hospital was willing to donate. Recognising an excellent opportunity to meet the need previously identified, Pacific Assist directors approached LDS Charities and extended an invitation for them to partner in the delivery of the hospital beds. LDS Charities responded with enthusiasm. Hans Sorensen, LDS Charities Area Welfare Director, identified the Vaiola Hospital in Nuku'alofa, Tonga as the recipient, and the Still-useful Medical Surplus Project was inaugurated.
---
---
In line with its objective to undertake an expanded focus, Pacific Assist hopes to continue partnering with hospitals in Australia and New Zealand to set up a still-useful medical surplus register and donations process. "What we've discovered," says Pacific Assist Director Richard Mclean, "is that hospitals in Australia may have medical resources that can still be used. If we can create a system for collecting and distributing them, then it could be a real benefit to under resourced hospitals in the South Pacific." Biomedical Engineer at Vaiola Hospital, Semisi Finau, said, "The hospital urgently needed delivery beds. Our current ones are old and need to be replaced." He also said there was an urgent need for transfer beds, patient trolleys, and drugs trollies. Hans Sorensen said he had recently been approached by another hospital seeking hospital beds, wheel chairs, walkers, canes, and shower chairs to meet the needs of disabled patients. Pacific Assist Director, Riki Tukukino, believes there is a real opportunity to make a significant difference. "There is an obvious urgent need," he explained, "and from our initial investigations it looks as though there are available resources that hospitals are willing to donate."
The project offers a win-win for all involved. As chief engineer at Castlemaine Health, Rod Woodford, explained, "It's good for the hospital because it's not a cost for Castlemaine Health, and we're very willing to help other countries in need where we can. It's a wonderful opportunity for Castlemaine Health and for the community of Castlemaine." Pacific Assist plans to meet with department of health and hospital officials in several Pacific Island nations over the coming months to gauge their needs. It will also begin to establish connections with Australian hospitals to determine how an effective system of still-useful medical surplus donation and collection can be established.
---
Volunteers load hospital beds donated by Castlemaine Health
---
New Zealand schools continue to contribute to Pacific Assist
23rd April, 2018: New Zealand schools continue to contribute to Pacific Assist's Furniture for Schools project. Furniture for Schools New Zealand has recently received donations for schools in Tonga of 161 desks and 141 chairs, 9 boxes of school uniforms and rugby Jerseys, and an assortment of books including an allotment of braille books for the blind school in Tonga. We are grateful to all those schools who have been so kind and generous.
---
Pacific Assist & LDS Charities Partner to Support Education Initiative in Fiji

26 March, 2018 (posted by Mallory Leslie Mortensen LDS Pacific Newsroom): On Monday, March 19, John McLean and Callum Blair, trustees for New Zealand based Furniture for Schools Charitable Trust (FFSNZ) a Pacific Assist project, visited three schools in Fiji to witness the use of the desks, chairs, books and tables donated by schools and children in New Zealand.
They expressed the desire to foster a "sister school" relationship between donors and recipients that would benefit the students in both countries. The pre-loved furniture from New Zealand schools is loaded into shipping containers and directed to schools who have a real need for the furnishings.
The FFSNZ trustees were delighted and gratified by the reception received at each visit. McLean stated, "Our partnership with LDS Charities (the humanitarian arm of The Church of Jesus Christ of Latter-day Saints) has made it possible for our organization to provide support to schools in need in the Pacific Islands."
He added, "As the environment in schools becomes conducive to learning, these children are more able to make progress in their education and one day will be able to contribute and give back to the country of Fiji."
In the last three years, FFSNZ has sent 70 containers of donated school furniture to schools in Fiji, Samoa, Tonga, Marshall Islands, Kiribati and Vanuatu.
Viliame K. Kuboutawa, representing the Fiji Ministry of Education conducted the tour. Russell and Wendy Perry, full-time humanitarian missionaries for The Church of Jesus Christ of Latter-day Saints, Paul Whippy and David Atalifo from the LDS Service Centre (administration office for the LDS Church) in Suva and Elder Adolf J. Johansson, Area Seventy for The Church of Jesus Christ of Latter-day Saints in Fiji, participated in the visits to the schools.
Makereta Rasaku, head teacher at the St Vincents de-Paul Primary School from the Tailevu Province, Central Division, expressed her sincere gratitude for the donations. "These quality chairs are comfortable for my students to sit on which improves their concentration on their school work." The school suffered much damage from Cyclone Winston and is still in the rebuilding process. "These donations have filled a real need," said Rasaku.
Qalo Lesi, principal at Queen Victoria School of the same province of Tailevu in the Central Division, greeted the visitors along with Mrs. Lesi who acts as vice-principal. The classrooms visited were filled with young men eager to learn and appreciative of the desks and chairs they received. Mrs. Lesi commented, "We are so fortunate for this assistance and look forward to more."
She continued, "Our boys were sitting on stools prior to the donation of desks and chairs."
At the Nasau Central Secondary and Primary Schools tucked away in a mountain village in Ra Province, Western Division, visitors were treated to the combined voices of enthusiastic singing from the students. Smiles were plentiful as students expressed their appreciation for new desks and chairs. Principal Lenati Ramokosoi said, "my students benefited directly from the donations and we are most thankful."
Previously only a Nasau Primary school existed. Construction on a secondary school was in progress, but furniture was needed to begin a year nine school. Thanks to the donations from FFSNZ, year nine in the secondary school has begun.
Refreshments were provided by school at the end of the tour.
Click here to learn more about the LDS Church's worldwide humanitarian efforts.
---
FFS Trust NZ Directors Callum Blair and John McLean with students receiving furniture at Nasau Central and St Vincents de-Paul Primary Schools Fiji
---
Pacific Assist Gets Busy in Vanuatu & PNG

22nd February, 2018: It's been a busy few months for Pacific Assist. With the assistance of volunteers, we have loaded seven, twenty-foot shipping containers with 1,734 pieces of second-hand school furniture and 108 computers. Three of these containers will be sent to Vanuatu. The other four will be shipped to Papua New Guinea (PNG) following successful negotiations between Pacific Assist and LDS humanitarian missionaries based in PNG. In addition, Pacific Assist director, Richard McLean, spent a week in Port Vila, Vanuatu with a contingent of education professionals visiting local schools to assess strengths and needs. These visits were in preparation for selecting principals to undertake a professional development mentor program partially sponsored by Pacific Assist. "It's been a very busy period for us," Richard said, "But we are very happy with the results. Not only have we been able to provide desks, chairs and computers, we've also been able to visit nine schools in Port Vila and get a real feel for the challenges they face."
In Vanuatu, representatives from the Ministry of Education and Training and humanitarian missionaries from LDS Charities will load and transport the donated furniture to schools located across the islands that make up the Vanuatu archipelago. Carlos Roundy, a humanitarian missionary based in Port Vila says, "You can't explain the difference this makes in the lives of these children. They have so few resources, and it's just fantastic to see their learning environment improved in this way." Director of Education Services in the Vanuatu Ministry of Education and Training, Roy Obed, indicated that with the ministry's success in raising the level of school attendance, schools, particularly those in outer islands, were now struggling with a lack of resources. The second-hand furniture being supplied by Pacific Assist and LDS Charities will help to alleviate this challenge.
Accompanying Richard in Port Vila was Victorian principal, researcher, and education consultant Andrew Jones. With support from the Vanuatu Ministry of Education and Training and LDS Charities, Pacific Assist and Andrew Jones are establishing a six-month principal development pilot program for three Port Vila principals. Andrew's work with the Science of Learning Research Centre (SLRC) at Melbourne University, his role facilitating the Science of Learning Network of Schools (SoLRNoS), and his research emphasis on improving learning and teaching leadership place him in a unique position to partner with Pacific Assist in this endeavour. Speaking of Andrew, Richard commented "I've seen first-hand what Andrew was able to accomplish as a principal with struggling students in Melbourne. Having seen the love of learning infused in the students of his school, it seemed only natural to invite him to assist us make a difference for schools facing significant challenges in the South Pacific."
The Port Vila pilot program will involve establishing a professional mentor relationship with three Victorian based principals, as well as access to a range of other professional development resources. "We know," says Andrew, "the best way to improve outcomes for students is to improve teaching, and the best way to improve teaching is to improve teaching and learning leadership. Principals are the teaching and learning leaders of the school, so that's why we are starting with them." Following their involvement in the pilot program, the Port Vila principals will be invited to mentor another three Vanuatu principals utilizing the same model used in the pilot. In this way Pacific Assist hopes to add to the local capacity to foster professional development utilizing world's best practice. If the results from the pilot program are positive and make a difference in teaching and learning practice, then Pacific Assist would look to establish similar programs in other provinces and in other south pacific nations. "We hope this is just the beginning of a long-term partnership and friendship with the people of Vanuatu," said Pacific Assist director Riki Tukukino.
Pacific Assist would like to acknowledge all the schools who have been so generous in contributing furniture and supporting the whole loading and collection process. Principals, teachers, and other support staff where very helpful in providing access for Pacific Assist volunteers to take inventories and photos, arrange for shipping containers to be delivered and collected, and to load containers. Their support has made a significant difference.
Photos left to right: Vanuatu MOET Meeting Attendees; Andrew Jones visits with students; Andrew Jones presenting to Vanuatu Educators; Richard McLean with Students
---
Improving Quality of Life for Disadvantaged Communities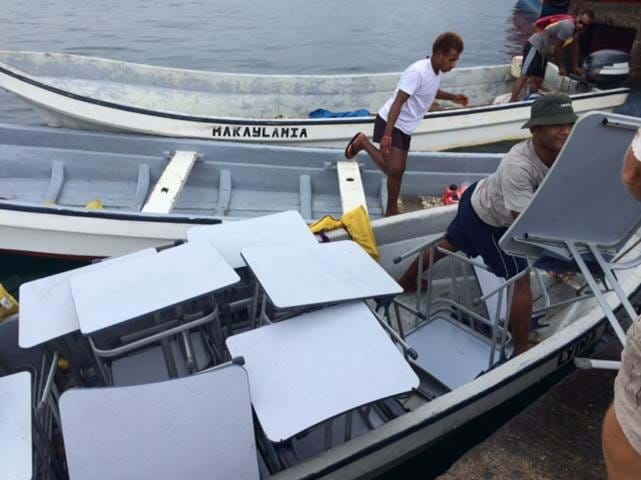 1st November, 2017: The Principal Adviser of Frontier Financial group, Richard McLean, has always sought for ways to make a difference in the lives of others. In business, He and the team at Frontier Financial Group work to create the highest quality of life for their clients. Like most of us, Richard is aware that there are many individuals and families in the world who lack the basic opportunities and resources to reach even their most modest goals and aspirations. It is for this reason that he has partnered with his brother John McLean, Callum Blair, and Riki Tukukino to form the not-for-profit charity Pacific Assist. Through Pacific Assist, Richard, John, Callum, and Riki seek to assist significantly disadvantaged individuals, families, and communities within Australia and the South Pacific to become emotionally, physically, economically, and educationally self-reliant.

Originally founded by John and Callum as 'Furniture for Schools' in New Zealand, Pacific Assist has delivered sixty shipping containers of donated high quality second hand desks and chairs to islands such as Tonga and Samoa. In June of this year Pacific Assist collected and distributed a shipping container load of donated office furniture from Sydney to the Tongan Department of Education. Between December and January, with support from local schools and various parties, Pacific Assist will send three more shipping containers with desks, chairs, and other school furniture donated by Melbourne schools [1] to needy school children in the island of Vanuatu. At Frontier Financial Group we love what our clients and others do for our kids through education in our community. Pacific Assist is another way we can help support the wider community in education.
In 2018 Pacific Assist is expanding its focus to include education, health and well-being, economic development, and humanitarian projects. Pacific Assist is currently bringing together resources and expertise to implement a principal mentoring program in Vanuatu. Richard also plans to travel to Papua New Guinea in December to meet with government officials and community leaders to discuss potential Pacific Assist projects. "At the end of the day," says Richard, "the biggest reward is seeing smiles on the faces of the recipients, and knowing you have made the quality of their life a little better."
We gratefully acknowledge the generous donations of the following schools: St Mark's Primary School (Fawkner); St Matthew's Primary School (Fawkner North); St Bernard's Primary School (East Coburg); St Johns Primary School (Clifton Hill); St Mary's Primary School (Thornbury); St Joseph's the Worker Primary School (Reservoir North); St Stephen's Primary School (Reservoir East); St John XXIII Primary School (Thomastown East); St Luke's Primary School (Lalor); St Joseph's Primary School (Mernda); Blackburn Primary School (Blackburn); The Lakes P-9 School ​(South Morang).
---
Photos left to right: Handover in Samoa; Samoan primary students; Unloading Furniture in Samoa; Pacific Assist director Callum Blair with students in Tonga
---
'Furniture for Schools' Partners with LDS Charities to Deliver Furniture to Tongan Schools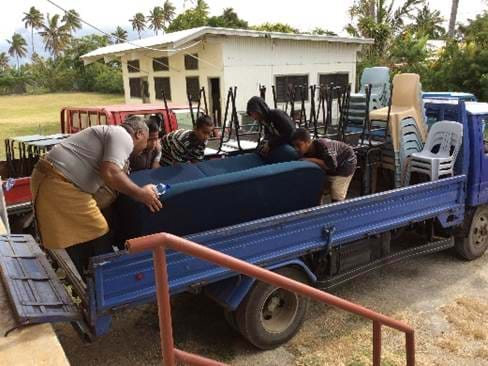 2 July, 2015 (posted by Carol Wallace LDS Pacific Newsroom): Furniture for Schools Charitable Trust partnered recently with LDS Charities, an organization of The Church of Jesus Christ of Latter-day Saints, to deliver recycled furniture from schools in Auckland to public schools in Tonga.
Schools are invited to donate usable furniture to be distributed to less privileged schools throughout the Pacific area.
The furniture delivered to Tonga was donated by Blockhouse Primary School, AUT University, Auckland Council Libraries, and Long Bay College.
John McLean, director and organiser of the trust, said, "The New Zealand schools have been quick to respond. They are grateful to see good furniture recycled and used."
LDS Charities facilitates the freighting and delivery of the furniture from Auckland to the final destination. Private companies assist in collecting the furniture from the different schools.
Mr McLean stated, "Our partnership with LDS Charities has made it possible for our organization to provide support to schools in need which are often found in Pacific Island groups."
The furniture was delivered to three schools in Tonga: Fungaonetaka 1 Kindergarten, Ngele'ia, and Tonga International Academy.
Pacific Area president of The Church of Jesus Christ of Latter-day Saints, Elder Kevin W. Pearson, recently spoke to youth about the importance of education, urging them to "Embark on a quest for education and learning."
"Our goal for 'Furniture for Schools," Mr McLean says, "dovetails on Elder Pearson's talk. We hope to encourage and enhance education by improving environments conducive to learning."
Mr McLean says they have more containers ready for shipment to other schools in the Pacific.
---
Photos left to right: Furniture donated by NZ schools loaded for delivery; Students at recipient school in Tonga; Tongan teachers with donated sports equipment.