Turbo touch launched in tonga
27 March, 2019: Turbo Touch—a new, fast-paced, hybrid game developed by Touch New Zealand—was introduced and enthusiastically received at Tonga High School recently.
The sporting launch coincided with a donation of 200 desks and chairs by Rangitoto College and Northcote College in Auckland, New Zealand, with the help of partners LDS Charities (the humanitarian arm of The Church of Jesus Christ of Latter-day Saints) and Pacific Assist's Furniture for Schools project.
Representatives from New Zealand and Tonga joined in with students in a demonstration game at the government school situated in Tonga's capital, Nukuʻalofa.
The game was watched by over 1,000 cheering students, school faculty and dignitaries including CEO of Tonga Netball, Mrs Salote Sisifa, members of the Parents and Teachers Association, and representatives from Rangitoto College and the Tonga Ministry of Education. Speaking to students and staff at a pre-game launch, Director of Pacific Assist, John McLean, expressed his opinion that, "...Turbo Touch will flourish here [in Tonga]...it's a game which allows young people of all sizes and fitness to play..." He went on to say, "I would like to think Tonga High School will become the school leadership of this sport in your country."
School leaders, along with the Ministry of Education representative Mr. Ponapate Taunisila, expressed appreciation for the gift of furniture and for Pacific Assist and LDS Charities' continued support of the Tongan government in its efforts to fight diabetes in the Pacific nation.
Jam-packed with action and perfect for all fitness levels and abilities, Turbo Touch is excellent for encouraging more physical activity, resulting in healthy minds and bodies, and helping reduce the incidence of diabetes. Last year TVNZ estimated that 15,000 Tongans out of a national population of 100,000 suffered from the disease. Pacific Assist Director, Callum Blair, said, "Turbo Touch is a fun, practical and engaging medium and context for delivering diabetes prevention and healthy lifestyle messages prior to, during, and after the game - it's not just about the game, it's an all round diabetes prevention initiative."
Also participating on the day was Inoke Akeaki—a well-known international rugby icon in Tonga, having played for the Hurricanes in the Super Rugby competition, and professional teams in Japan, Wales and France.
Akeaki represented Tonga in four back-to-back Rugby World Cups, captaining the Tonga team at the 2003 Rugby World Cup in Australia, and in 2004 was the captain of the Pacific Islanders rugby union team that played a series of matches against southern nations. More recently he has been involved in the Tonga Association of Sport and National Olympic Committee and as technical director at the Singapore Rugby Union.
Pacific Assist representatives plan to take elite sportsmen and women into the schools to train and motivate the youth to be active and involved in sports.
Pacific Assist's Turbo Touch devlopment team include Andrea (Andy) Morgan-Tafea a New Zealand representative in indoor netball, touch rugby and tag football; Andy's husband Pinomi Tafea an accomplished athlete of representative level in rugby league and tag football; and, New Zealand representative basketball player Brook Blair. Together they make a formidable force in the promotion of fitness and healthy living. To see more, watch Turbo Touch - Exercise To Beat Diabetes promo video below.
---
Photos left to right: Former Tongan Rugby Captain, Inoke Akeaki, high fives his Tonga High School Turbo Touch team members; Tonga High School student scores for the Blue Team; Pacific Assist Turbo Touch ambassador, Pinomi (Nomi) Tafea, entertains the crowd of Tonga High School students; Tonga High School student scores for the Orange Team.
---
Pacific Assist / LDS Charities Representatives Meet with Education and Community Leaders in PNG
18 March, 2019: During the last year Pacific Assist, in partnership with LDS Charities, has sent twelve containers of school furniture to Papua New Guinea (PNG), and another four are scheduled to be delivered over the next two to three months. As a follow-up, Pacific Assist Directors Richard McLean and Riki Tukukino recently visited the capital of PNG, Port Moresby, with LDS Charities representatives, and Area Seventy overseeing Papua New Guinea, Elder Robert Dudfield. The visit provided opportunities for the team to see first-hand the educational challenges schools there are facing, and to strengthen their relationship with local government and community leaders. Riki Tukukino explained that, "Pacific Assist's plan is to extend our efforts in PNG. Such efforts would include the delivery of more school furniture, but could also include other initiatives such as establishing a principal professional development program, and sourcing and supplying still-useful second-hand electric hospital beds. The purpose of our visit was to gain insights into the effectiveness of our current efforts, and to determine if there are other ways we may be able to contribute to building self-reliance through education and health and well-being initiatives."
While in Port Moresby, Richard and Riki were hosted by LDS Charities PNG Country Manager, Eddie Alembo and visited schools that had been the recipients of some of the previously donated furniture. They were met with deep expressions of gratitude, and a reassurance that the desks and chairs were making a real difference. Roger Emo, a teacher at a local Port Moresby primary school, explained that, "Receiving the desks has had a very positive effect on the students' learning, the ones [students] who have been sitting on the floor have been uncomfortable while doing their writing, and some of them are not willing to come to school, but since receiving the desks they seem to be enjoying their lessons from day to day." School leaders also advised the visitors of the need for text books and readers. In some schools it was evident teachers and students were also facing a number of infrastructure challenges making learning difficult, including overcrowded classrooms, no lighting, and classrooms requiring repairs. At every school visited there were appeals for further assistance.
Pacific Assist believes an important element to succeeding in strengthening self-reliance within the communities they seek to serve is establishing close relationships with leaders in government, community, and other local entities. Richard McLean explained that, "Pacific Assist seeks to establish relationships and partnerships with local organisations to assist us better understand, meet the needs of, and engage local communities." To this end, Richard, Riki, Elder Dudfield, and Eddie Alembo met with a number of local leaders from various government and non-government bodies. "All of those we met with," said Richard, "at both the senior level, and at the grass roots level, provided us with significant insights into the challenges they were facing, and ways we can make a contribution. We were very grateful for the personal experiences they shared that increased our understanding." At a joint Pacific Assist and LDS Charities press conference and a dinner held for a number of government and community leaders, Elder Dudfield highlighted the work of LDS Charities in PNG over several decades and reemphasised the importance of caring for our neighbours. He said, "One of the two great commandments is to love our neighbours. We consider the good people of PNG as not only our neighbours but as family and friends." In their remarks, Richard McLean and Riki Tukukino, emphasised the importance of partnerships, and that challenges to strengthening self-reliance can only be successfully overcome when people and organisations come together in genuine and respectful partnerships. Riki Tukukino commented that, "All that we saw, and the wonderful and warm people we met dedicated to making a difference in the lives of those they work directly with and their broader communities, increased our commitment to continue our efforts to strengthen self-reliance through education and health and well-being initiatives. Not only did we gain important insights, we also came away with a new group of tremendous friends."
Pictured above are Left to Right - Front Row Seated: Mr. Ray Paul, Chief Commissioner, PNG Customs Services Office; Justice Gibbs Salika, Chief Justice, PNG Supreme Court; Ambassador Catherine Ebert-Gray, U.S. Ambassador to PNG; Elder Robert Dudfield, LDS Area Seventy overseeing Papua New Guinea. Second Row: Mr. Eddie Alembo, PNG Country Manager, LDS Charities; Dr. Lautofa McCarthy, President, Port Moresby Rotary Club; Mrs. Lydia McCarthy, Port Moresby Rotary Club; Mr. Sam Iora, Assistant Secretary, NCDE; Sister McReynolds, LDS Missionary and Co-Coordinator Mum's Pre-school; Sister Diane Prince LDS Missionary (Public Affairs); Sister Lucy Hafoka, LDS Missionary and Co-Coordinator Mum's Pre-school; Mrs. Barbara Liri; PNG Program Director, The Nature Conservancy; Mrs. Lydia Butot-Dori, Senior Program Manager - Education & Leadership Team, Australian High Commission for PNG,. Back Row: Mr. Clive Haydon, Projects Manager, Pacific Assist; Mr. Charles Tuigamala, President, LDS Gerehu District; President Finau Hafoka, Mission President, LDS PNG Port Moresby Mission; Elder McReynolds, LDS Missionary; Mr. Pakou Gau, Director, NCDE; Mr. Homoka Boge, Director, NCDE; Mr. Liri; Elder Robert Prince, LDS Missionary (Public Affairs); Mr. Richard McLean, Director, Pacific Assist; Mr. Riki Tukukino, Director, Pacific Assist. Abbreviations:
PNG - Papua New Guinea; U.S. - United States; LDS - The Church of Jesus Christ of Latter-day Saints; NCDE - National Capital District
---
Left to right: Students without desks and chairs; Riki Tukukino, Richard McLean and Eddie Alembo meet with PNG media; Richard McLean addresses students who received desks from Pakenham Springs Primary School; Richard McLean, Justice Gibbs Salika (PNG Supreme Court Chief Justice), Elder Robert Dudfield, and Riki Tukukino.
---
pacific assist looks to support diabetes prevention in tonga
5 February, 2019: Pacific Assist and LDS Charities continue their efforts to fight diabetes in Pacific nations.
Both organisations are committed to partnering with other NGO's and government agencies to help people already impacted by the disease as well as reduce the incidence of further cases.
Last year TVNZ estimated that in Tonga 15,000 out of a national population of 100,000 suffered from the disease.
At a recent meeting in Tonga with Deputy Prime Minister, Hon Semisi Sika, representatives of Pacific Assist, LDS Charities, and its parent organisation The Church of Jesus Christ of Latter-day Saints discussed ways to improve health outcomes among Tongan communities.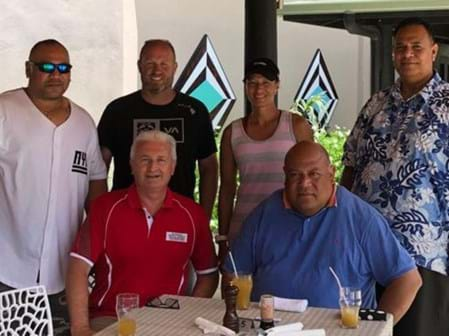 Part of the discussion revolved around encouraging more physical activity among young people, donating sports uniforms and equipment, and bringing in expert trainers to run fitness sessions. As an extension of this discussion, Pacific Assist director Callum Blair is looking at the possibility of utilising modified sports programs as a means of early intervention to combat the onset of Diabetes, with a possible launch as early as late March 2019.
Callum says' "If you make getting healthy and fit fun, people, especially young people, are more likely to get involved. In the long run that's good for the overall health of the community and can be part of a diabetes prevention strategy."
---
Port Vila Principals Complete Mentor Pilot Program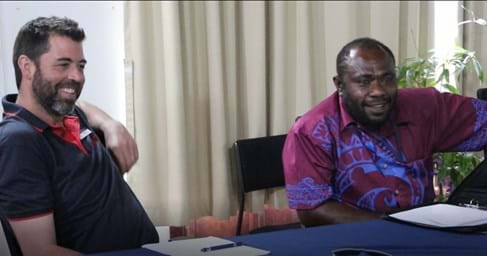 1st February, 2019: Port Vila principals Haward Mala (Vila East Primary School), David Narai (Seaside Primary School), and Shem Simon (Malapoa College) have completed the first stage of the Vanuatu (Port Vila) Principal Mentor and Development Program. The program is a partnership between Pacific Assist, LDS Charities, and the Vanuatu Ministry of Education, and is part of an ongoing effort to strengthen student outcomes in Vanuatu. The program aims to introduce Vanuatu mentee principals to the latest teaching and learning theory and practice through professional development workshops and interactions with mentor principals from Victoria, Australia.
Mentee principals participated in three professional development workshops delivered via video conference. In addition, they received access to online research and connected with Victorian principal mentors online, via email and phone, and through face-to-face interactions. The experience culminated with the visit of mentors to Port Vila in October last year. As well as face-to-face meetings, mentors toured each of the schools and interacted with students, teachers, and staff. This visit was seen as vital to the success of the program. As one mentor commented, "Our time with our mentees and the opportunity to develop an understanding of the challenges and context of the schools in Vanuatu was invaluable. We formed relationships that will greatly benefit our ability to provide support to our colleagues in Port Vila."
All partners made significant and important contributions and worked in a united way to implement the program and bring about its objectives. Despite technical, distance, and cultural challenges all believe the program was a successful first step and are committed to continuing the program into the future. Mentee David Nari said, "The program has assisted me with my leadership role as a principal. We [my mentor and I] shared a lot of ideas, and we reflected a lot, I was amazed. I think this is something that the Ministry of Education should encourage, it will help the school principals be motivated."
Pacific Assist wishes to acknowledge and thank the Vanuatu Ministry of Education and Training, LDS Charities, Andrew Jones (Huddle Learning Systems), the Victorian principal mentors ( Justin Esler, Rowan Kayll and Frank Vetere.) and the Port Vila principal mentees (Haward Malla, David Narai, and Shem Simon) for their commitment and contribution to the program. Pacific Assist looks forward to moving forward in 2019 and building on the success of the pilot program.
---
Left to right: Haward Malla with mentor Rowan Kayll; Victorian principals visit with students at Vila East Primary School; Frank Vetere with mentee Shem Simon; Jonathan Yona (MOET), Haward Malla, Andrew Jones (Huddle Learning Systems), Justin Esler - back row, Rowan Kayall, Frank Vetere, David Nari, and Shem Simon.
---
Operation Furniture An Overwhelming Success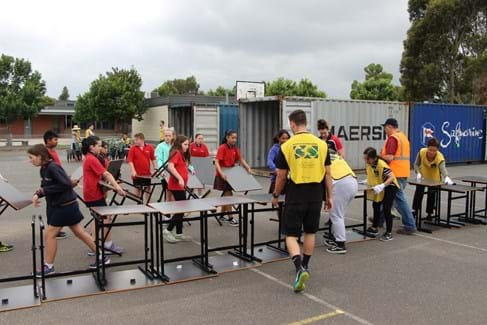 20th December, 2018: A school's basketball court is not an unusual place for students to congregate, especially on the second-last day of the school year, however, the hive of activity around the court at Pakenham Springs Primary School on December 20 was not for basketball, instead students were working side be side with teachers and other volunteers to complete Operation Furniture. The operation, an initiative of the school's Student Representative Council (SRC), was launched in November to prepare for the replacement of the schools entire stock of desks and chairs. As noted by SRC representative Jasmine, the dilemma of what to do with the old furniture provided ,"a great opportunity to support schools and children who don't have any furniture at all." As part of the operation, students created a promotional video and organised and conducted a fundraising sausage sizzle. Their fundraising efforts raised over one thousand dollars to contribute to container shipping costs. The operation's culminating event was the loading of eight 20 foot shipping containers. Students, teachers, and volunteers worked for several hours to complete the task. "This was the ideal partnership," said Pacific Assist Director Riki Tukukino, "What we thought would be a seven or eight hour exercise, was cut to approximately five hours. The students made all the difference - they worked with enthusiasm and energy to ensure all the furniture was removed from classrooms and positioned were it could be easily accessed for loading." In addition to desks and chairs, the school also donated computers and library books. Some students taped letters and drawings to their chairs for the students who will receive them. A teacher at the school, Esther Priestly, summed up Operation Furniture as "really fabulous" and "a good way to enter Christmas." Mr. Tukukino said, "For Pacific Assist, this was the ideal partnership." The furniture is being shipped to schools in Port Moresby, Papua New Guinea and South Tarawa, Kiribati and is due to be delivered during February of 2019.
---
Left to right: Loading coordinator David Howe directs students; A letter from a PSPS student; PSPS students move furniture to the loading zone; Volunteers from the Church of Jesus Christ of Latter-day Saints.
---
Students lead fundraising effort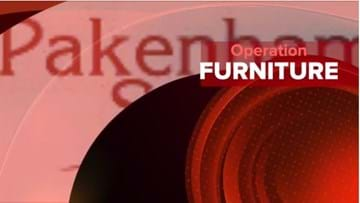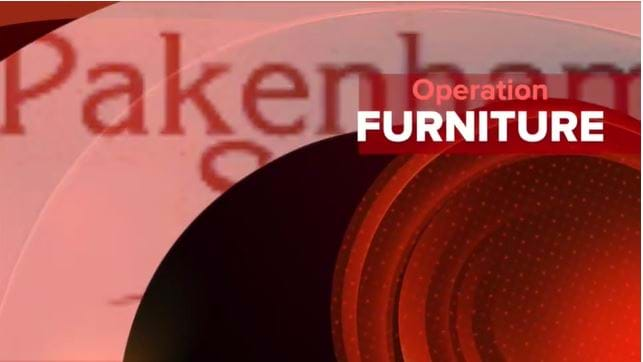 22nd November, 2018: Students at Pakenham Springs Primary School in Melbourne's south east take seriously the school's mission to assist them "become respectful and informed members of the local and global community," recently adding to their other community service endeavours 'Operation Furniture.' Operation Furniture has been established by the Student Representative Council (SRC) to raise funds for contributing to the cost of shipping a container of donated school furniture to Port Moresby, Papua New Guinea. The furniture is part of 37 classrooms of still in good condition desks and chairs being donated by the school to Pacific Assist. SRC representative Tanya described Operation Furniture as "an amazing opportunity," and fellow representative Declan urged parents and other potential donors not to "miss out on the chance to impact the world." Pacific Assist director Richard McLean said, "This is a wonderful project the whole school community can contribute to." Noting that it is the biggest project Pacific Assist has been involved with, he added that "we are very grateful to Pakenham Springs Primary School, and we'll ensure we play our part."
View the SRC's launch of Operation Furniture below.
---
---
Discovering the Underside of Paradise in Fiji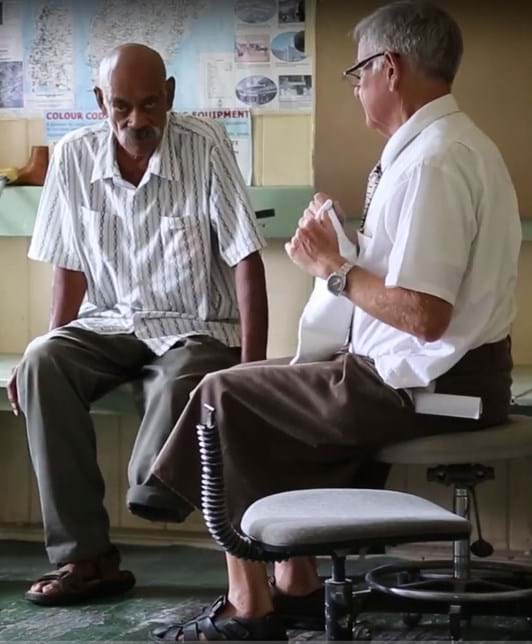 7th November, 2018: For most, the name Fiji conjures up images of beautiful beaches, surf, palm trees, and luxury resorts, but on a recent visit to Fiji as part of a humanitarian conference hosted by LDS Charities, Pacific Assist Directors discovered a debilitating underside to the beautiful South Pacific nation - diabetes. It turns out Fiji has one of the highest death rates from diabetes in the world, and the highest in the South Pacific. The problem is at epidemic proportions. Amputation of lower limbs affected by gangrene is the most common surgical procedure in the country, with four people a day receiving amputations from diabetes related complications. However, according to podiatrist Dr. Dean Clark, a volunteer with Diabetes Fiji and former LDS Charities humanitarian missionary, Fiji is also the best at reporting and the problem may be just as bad or worse in other South Pacific nations. How is this possible on islands full of tropical fruits and vegetables? According to nutritionist Joyce Clark, wife of Dr. Clark, local Fijians are not eating fresh fruits and vegetables, instead they've taken on the high carbohydrate, high sugar, preservative added diet of the west. Low levels of exercise, lack of education, poverty, and a culture of overeating exacerbate the problem.
In response to the acute diabetes problem, the Clarks have teamed up with Diabetes Fiji and the Seventh-day Adventist (SDA) Health Mission. The three groups are working together to increase screening, provide education about nutrition, and support rehabilitation of those who have suffered amputations. They all agree that education is a key component in turning the crisis around. According to Dr. Clark, if every known diabetic in Fiji could belong to a support group were their blood sugars, blood pressure, and weight were measured regularly, and health and nutrition were discussed, 80% of amputations could be prevented. Dr Alipate Vakamocea, Dircetor of the SDA Health Mission, says "Unless we're able to change the mindset of culture over health, we're going to have problems."
In addition to seeking to reduce and prevent diabetes, Dr. Clark is also improving the quality of life for those who have already suffered an amputation. Working with local prosthetists, and with support from international donors, including LDS Charities, Dr Clark and his team have developed affordable below and above the knee prosthetics. The prosthetics are made and fitted on-site at the Prosthetics Unit of the National Rehabilitation Centre in Suva. Prosthetic that would normally cost 10's of thousands of dollars are being made for just a few hundred dollars. However, Dr. Clark is quick to highlight the need far out ways what can currently be supplied. "What we need," he says, "is more donors who are willing to fund the cost of producing prosthetics over a long-term period."
After a tour of the Prosthetic Unit in Suva, Pacific Asset Director Riki Tukukino said, "We were appalled by the enormity of the problem, but in awe of the work Dr Clark and his associates are undertaking. The quality of what they are producing in such limited facilities is a credit to their commitment, care, and tenacity." Pacific Assist hopes to be able to connect Dr. Clark with potential funding partners so that this incredible work can continue and the suffering of a significantly increased number of amputees can be eased. To learn more about the diabetes crisis in Fiji and the work of Dr. Clark and his wife Joyce view the documentary "The Underside of Paradise" below.
---
Dr Alipate Vakamocea, Dr Dean Clark, and Dr. Paul Wood (Director of Adventist Health); Members of a diabetic support group meet to discuss good health and nutrition; Pacific Assist Director John McLean views the mold for a prosthetic; Fitting a shoe to a prosthetic;
---
---
Vaiola Hospital, Tonga receives hospital beds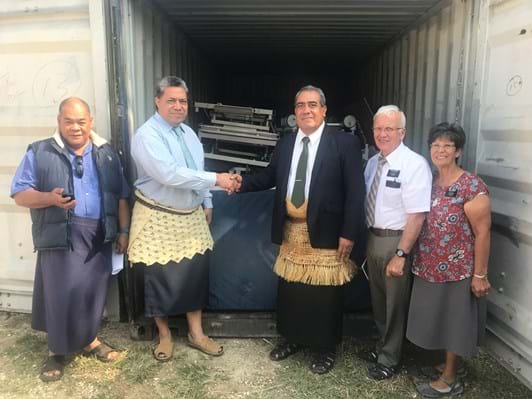 27th July, 2018: CEO of Health for Tonga, Dr. Siale Akauola and Executive
Officer of Vaiola Hospital in Nuku'alo, Filipe Taufa, gratefully received 25 electric hospital beds with mattresses donated by Castelmaine Health. Dr. Akauola indicated the beds were greatly needed. Not only will they increase the standard of care for patients, they will greatly assist nurses who are at risk of serious back injury when lifting patients in standard beds. The Dr. acknowledged the efforts of LDS Charities and Pacific Assist, and thanked Castlemaine Health for their generous donation. LDS Charities and Pacific Assist hope to partner with other hospitals in Australia to supply still-useful medical surplus to struggling hospitals in the South Pacific.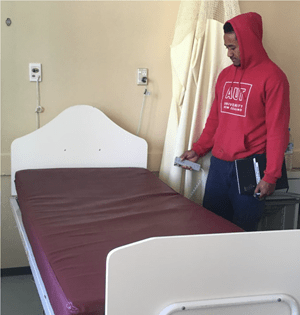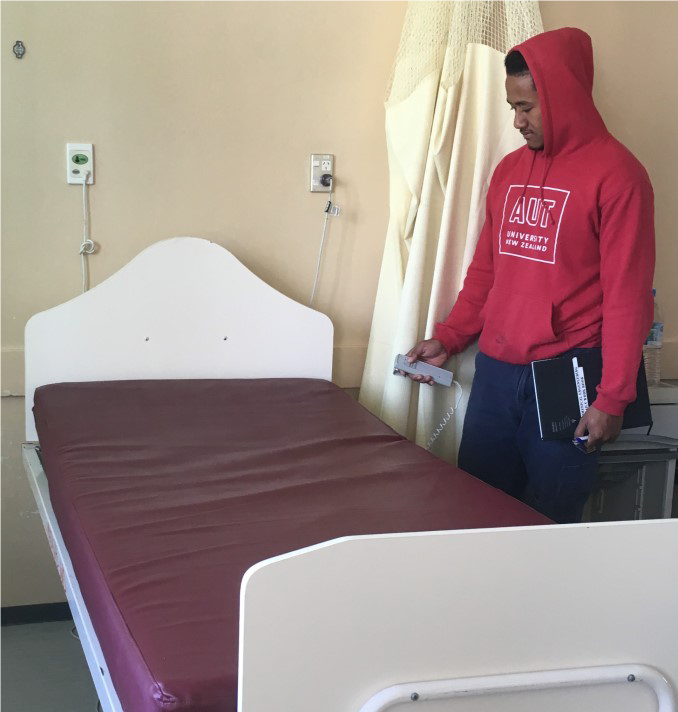 ---
VANUATU PRINCIPAL MENTOR PROGRAM COMMENCES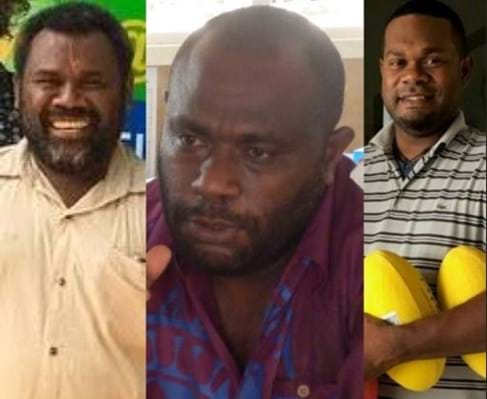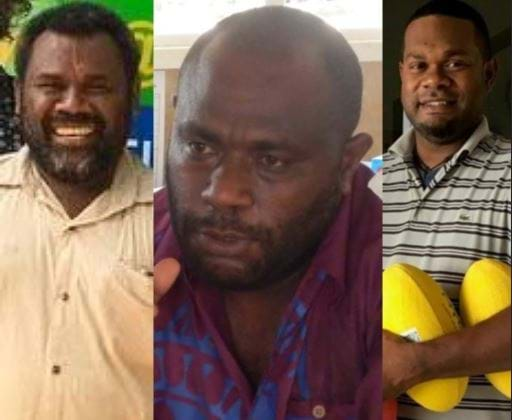 15th May, 2018: Port Vila and Victorian principals recently participated in the Vanuatu (Port Vila) Principal Mentor and Development Program induction. The induction is the first component of the six-month pilot program announced by Pacific Assist in February. The program is a partnership between Pacific Assist, LDS Charities, and the Vanuatu Ministry of Education. Vanuatu principals Haward Mala (Vila East Primary School), David Narai (Seaside Primary School), and Shem Saimon (Malapoa College), expressed deep appreciation for the opportunity to participate in the program. "I know this experience will give me a unique opportunity to improve the quality of teaching and learning in my school," said Haward Mala, principal of Vila East Primary School in Port Vila. Victorian mentor principals Rowan Kayll, Frank Vetere, and Justin Esler were just as excited. Mr. Esler, principal of Diamond Valley Special Development School indicated that this would be a two-way engagement, "As well as sharing our experiences, there is much that we can learn from the Vanuatu principals," he said. "How is it that they are able to achieve so much while operating with such limited resources? The answer to that question is one we can learn a lot from." Mentors and mentees will communicate one-on-one on a regular basis via email and online conferencing. As part of the induction process, Vanuatu principals identified specific challenges they faced that could form the focus point for their discussions with mentors.
Facilitator of the program, Andrew Jones of Huddle Learning Systems, explained that principals have been paired up based on the similarity of the circumstances of their respective schools. "While not exactly the same," said Andrew, "we have worked very hard to select mentors that are likely to be facing similar challenges and have schools of a similar size and age. For example, we've paired Frank Vetere, principal of Point Cook Secondary College, a high school of approximately 1,530 students, with Shem Saimon of Malapoa College, a high school with approximately 800 students."
In addition to their interactions with mentors, Vanuatu principals will participate together in three professional development workshops facilitated by Andrew Jones. These workshops will focus on teaching and learning challenges the principals have identified as important to them. "These workshops won't be a lecture." said Andrew, "They will be a discussion around what's happening on the ground in Port Vila, with insights gained from discussions with mentors and relevant research being added to assist the Vanuatu principals formulate strategies they believe can be applied to their local circumstances. The input of the Port Vila principals will form a significant part of the discussion."
LDS Charities humanitarian missionary, Deborah Roundy, who coordinated the induction in Port Vila, observed that when the two groups were introduced there was a tremendous feeling of excitement. She noted that, "The Port Vila principals feel a deep sense of commitment to their schools and to the future of Vanuatu, and they believe their participation in the program will empower them to enhance the quality of teaching and learning for their teachers and students." If results from this pilot indicate an improvement in teaching and student learning, then Pacific Assist and LDS Charities will look to broaden the opportunity to principals in other Vanuatu provinces, and to other Pacific Island nations. Director of Pacific Assist, Richard McLean, says, "If you really want to enhance self-reliance for an individual, a family, or a community working with them to determine their own solutions to meet educational challenges is fundamental. That's what this program is all about."
---
Facilitator Andrew Jones listens via video conference during the Vanuatu principal induction; Sophie Ravo (Assistant Principal) & David Narai (Principal) Seaside Primary School, Port Vila; Rowan Kayll (Briar Hill Primary School), Frank Vetere (Point Cook Secondary College), Justin Esler (Diamond Valley Special Development School), & Andrew Jones (Huddle Learning Systems) during the mentor induction; The mentor team: Rowan Kayll, Andrew Jones, Justin Esler, & Frank Vetere.
---
TONGAN HOSPITAL TO RECEIVE HOSPITAL BEDS
5th May, 2018: Pacific Assist volunteers recently loaded 25 still-useful electric hospital beds in readiness to be shipped to Tonga. This was the culmination of conversations the Pacific Assist team had during their recent visit to Vanuatu, where they were advised that some hospitals in the South Pacific had a need for additional medical equipment and supplies. Not long after returning home, Pacific Assist Director Richard McLean was contacted by the chief engineer at Castlemaine Health, Rod Woodford, who indicated he had a significant number of still-useful electric hospital beds the hospital was willing to donate. Recognising an excellent opportunity to meet the need previously identified, Pacific Assist directors approached LDS Charities and extended an invitation for them to partner in the delivery of the hospital beds. LDS Charities responded with enthusiasm. Hans Sorensen, LDS Charities Area Welfare Director, identified the Vaiola Hospital in Nuku'alofa, Tonga as the recipient, and the Still-useful Medical Surplus Project was inaugurated.
---
---
In line with its objective to undertake an expanded focus, Pacific Assist hopes to continue partnering with hospitals in Australia and New Zealand to set up a still-useful medical surplus register and donations process. "What we've discovered," says Pacific Assist Director Richard Mclean, "is that hospitals in Australia may have medical resources that can still be used. If we can create a system for collecting and distributing them, then it could be a real benefit to under resourced hospitals in the South Pacific." Biomedical Engineer at Vaiola Hospital, Semisi Finau, said, "The hospital urgently needed delivery beds. Our current ones are old and need to be replaced." He also said there was an urgent need for transfer beds, patient trolleys, and drugs trollies. Hans Sorensen said he had recently been approached by another hospital seeking hospital beds, wheel chairs, walkers, canes, and shower chairs to meet the needs of disabled patients. Pacific Assist Director, Riki Tukukino, believes there is a real opportunity to make a significant difference. "There is an obvious urgent need," he explained, "and from our initial investigations it looks as though there are available resources that hospitals are willing to donate."
The project offers a win-win for all involved. As chief engineer at Castlemaine Health, Rod Woodford, explained, "It's good for the hospital because it's not a cost for Castlemaine Health, and we're very willing to help other countries in need where we can. It's a wonderful opportunity for Castlemaine Health and for the community of Castlemaine." Pacific Assist plans to meet with department of health and hospital officials in several Pacific Island nations over the coming months to gauge their needs. It will also begin to establish connections with Australian hospitals to determine how an effective system of still-useful medical surplus donation and collection can be established.
---
Volunteers load hospital beds donated by Castlemaine Health
---
New Zealand schools continue to contribute to Pacific Assist
23rd April, 2018: New Zealand schools continue to contribute to Pacific Assist's Furniture for Schools project. Furniture for Schools New Zealand has recently received donations for schools in Tonga of 161 desks and 141 chairs, 9 boxes of school uniforms and rugby Jerseys, and an assortment of books including an allotment of braille books for the blind school in Tonga. We are grateful to all those schools who have been so kind and generous.
---
Pacific Assist & LDS Charities Partner to Support Education Initiative in Fiji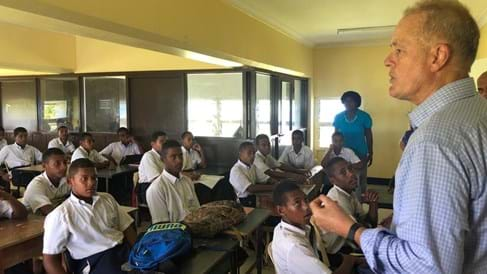 26 March, 2018 (posted by Mallory Leslie Mortensen LDS Pacific Newsroom): On Monday, March 19, John McLean and Callum Blair, trustees for New Zealand based Furniture for Schools Charitable Trust (FFSNZ) a Pacific Assist project, visited three schools in Fiji to witness the use of the desks, chairs, books and tables donated by schools and children in New Zealand.
They expressed the desire to foster a "sister school" relationship between donors and recipients that would benefit the students in both countries. The pre-loved furniture from New Zealand schools is loaded into shipping containers and directed to schools who have a real need for the furnishings.
The FFSNZ trustees were delighted and gratified by the reception received at each visit. McLean stated, "Our partnership with LDS Charities (the humanitarian arm of The Church of Jesus Christ of Latter-day Saints) has made it possible for our organization to provide support to schools in need in the Pacific Islands."
He added, "As the environment in schools becomes conducive to learning, these children are more able to make progress in their education and one day will be able to contribute and give back to the country of Fiji."
In the last three years, FFSNZ has sent 70 containers of donated school furniture to schools in Fiji, Samoa, Tonga, Marshall Islands, Kiribati and Vanuatu.
Viliame K. Kuboutawa, representing the Fiji Ministry of Education conducted the tour. Russell and Wendy Perry, full-time humanitarian missionaries for The Church of Jesus Christ of Latter-day Saints, Paul Whippy and David Atalifo from the LDS Service Centre (administration office for the LDS Church) in Suva and Elder Adolf J. Johansson, Area Seventy for The Church of Jesus Christ of Latter-day Saints in Fiji, participated in the visits to the schools.
Makereta Rasaku, head teacher at the St Vincents de-Paul Primary School from the Tailevu Province, Central Division, expressed her sincere gratitude for the donations. "These quality chairs are comfortable for my students to sit on which improves their concentration on their school work." The school suffered much damage from Cyclone Winston and is still in the rebuilding process. "These donations have filled a real need," said Rasaku.
Qalo Lesi, principal at Queen Victoria School of the same province of Tailevu in the Central Division, greeted the visitors along with Mrs. Lesi who acts as vice-principal. The classrooms visited were filled with young men eager to learn and appreciative of the desks and chairs they received. Mrs. Lesi commented, "We are so fortunate for this assistance and look forward to more."
She continued, "Our boys were sitting on stools prior to the donation of desks and chairs."
At the Nasau Central Secondary and Primary Schools tucked away in a mountain village in Ra Province, Western Division, visitors were treated to the combined voices of enthusiastic singing from the students. Smiles were plentiful as students expressed their appreciation for new desks and chairs. Principal Lenati Ramokosoi said, "my students benefited directly from the donations and we are most thankful."
Previously only a Nasau Primary school existed. Construction on a secondary school was in progress, but furniture was needed to begin a year nine school. Thanks to the donations from FFSNZ, year nine in the secondary school has begun.
Refreshments were provided by school at the end of the tour.
Click here to learn more about the LDS Church's worldwide humanitarian efforts.
---
FFS Trust NZ Directors Callum Blair and John McLean with students receiving furniture at Nasau Central and St Vincents de-Paul Primary Schools Fiji
---
Pacific Assist Gets Busy in Vanuatu & PNG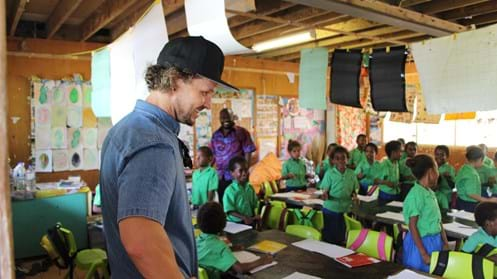 22nd February, 2018: It's been a busy few months for Pacific Assist. With the assistance of volunteers, we have loaded seven, twenty-foot shipping containers with 1,734 pieces of second-hand school furniture and 108 computers. Three of these containers will be sent to Vanuatu. The other four will be shipped to Papua New Guinea (PNG) following successful negotiations between Pacific Assist and LDS humanitarian missionaries based in PNG. In addition, Pacific Assist director, Richard McLean, spent a week in Port Vila, Vanuatu with a contingent of education professionals visiting local schools to assess strengths and needs. These visits were in preparation for selecting principals to undertake a professional development mentor program partially sponsored by Pacific Assist. "It's been a very busy period for us," Richard said, "But we are very happy with the results. Not only have we been able to provide desks, chairs and computers, we've also been able to visit nine schools in Port Vila and get a real feel for the challenges they face."
In Vanuatu, representatives from the Ministry of Education and Training and humanitarian missionaries from LDS Charities will load and transport the donated furniture to schools located across the islands that make up the Vanuatu archipelago. Carlos Roundy, a humanitarian missionary based in Port Vila says, "You can't explain the difference this makes in the lives of these children. They have so few resources, and it's just fantastic to see their learning environment improved in this way." Director of Education Services in the Vanuatu Ministry of Education and Training, Roy Obed, indicated that with the ministry's success in raising the level of school attendance, schools, particularly those in outer islands, were now struggling with a lack of resources. The second-hand furniture being supplied by Pacific Assist and LDS Charities will help to alleviate this challenge.
Accompanying Richard in Port Vila was Victorian principal, researcher, and education consultant Andrew Jones. With support from the Vanuatu Ministry of Education and Training and LDS Charities, Pacific Assist and Andrew Jones are establishing a six-month principal development pilot program for three Port Vila principals. Andrew's work with the Science of Learning Research Centre (SLRC) at Melbourne University, his role facilitating the Science of Learning Network of Schools (SoLRNoS), and his research emphasis on improving learning and teaching leadership place him in a unique position to partner with Pacific Assist in this endeavour. Speaking of Andrew, Richard commented "I've seen first-hand what Andrew was able to accomplish as a principal with struggling students in Melbourne. Having seen the love of learning infused in the students of his school, it seemed only natural to invite him to assist us make a difference for schools facing significant challenges in the South Pacific."
The Port Vila pilot program will involve establishing a professional mentor relationship with three Victorian based principals, as well as access to a range of other professional development resources. "We know," says Andrew, "the best way to improve outcomes for students is to improve teaching, and the best way to improve teaching is to improve teaching and learning leadership. Principals are the teaching and learning leaders of the school, so that's why we are starting with them." Following their involvement in the pilot program, the Port Vila principals will be invited to mentor another three Vanuatu principals utilizing the same model used in the pilot. In this way Pacific Assist hopes to add to the local capacity to foster professional development utilizing world's best practice. If the results from the pilot program are positive and make a difference in teaching and learning practice, then Pacific Assist would look to establish similar programs in other provinces and in other south pacific nations. "We hope this is just the beginning of a long-term partnership and friendship with the people of Vanuatu," said Pacific Assist director Riki Tukukino.
Pacific Assist would like to acknowledge all the schools who have been so generous in contributing furniture and supporting the whole loading and collection process. Principals, teachers, and other support staff where very helpful in providing access for Pacific Assist volunteers to take inventories and photos, arrange for shipping containers to be delivered and collected, and to load containers. Their support has made a significant difference.
Photos left to right: Vanuatu MOET Meeting Attendees; Andrew Jones visits with students; Andrew Jones presenting to Vanuatu Educators; Richard McLean with Students
---
Improving Quality of Life for Disadvantaged Communities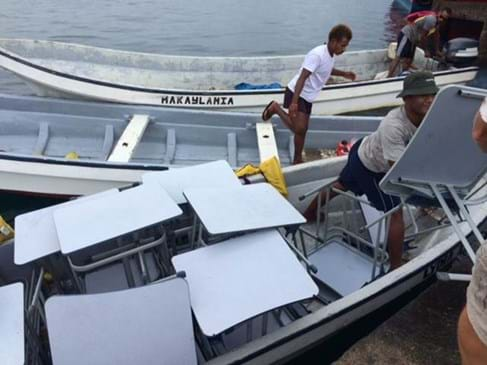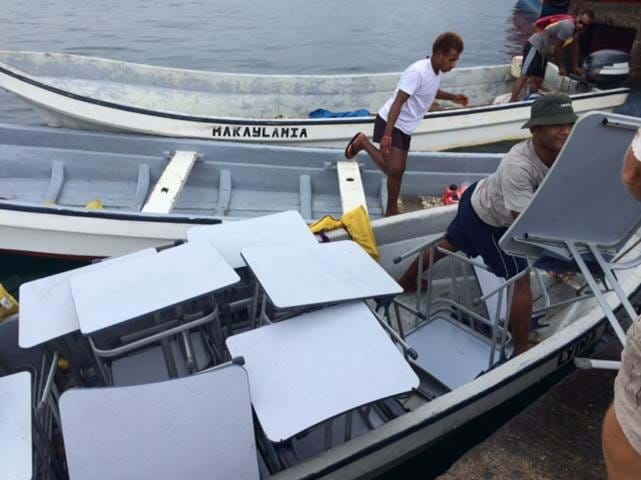 1st November, 2017: The Principal Adviser of Frontier Financial group, Richard McLean, has always sought for ways to make a difference in the lives of others. In business, He and the team at Frontier Financial Group work to create the highest quality of life for their clients. Like most of us, Richard is aware that there are many individuals and families in the world who lack the basic opportunities and resources to reach even their most modest goals and aspirations. It is for this reason that he has partnered with his brother John McLean, Callum Blair, and Riki Tukukino to form the not-for-profit charity Pacific Assist. Through Pacific Assist, Richard, John, Callum, and Riki seek to assist significantly disadvantaged individuals, families, and communities within Australia and the South Pacific to become emotionally, physically, economically, and educationally self-reliant.

Originally founded by John and Callum as 'Furniture for Schools' in New Zealand, Pacific Assist has delivered sixty shipping containers of donated high quality second hand desks and chairs to islands such as Tonga and Samoa. In June of this year Pacific Assist collected and distributed a shipping container load of donated office furniture from Sydney to the Tongan Department of Education. Between December and January, with support from local schools and various parties, Pacific Assist will send three more shipping containers with desks, chairs, and other school furniture donated by Melbourne schools [1] to needy school children in the island of Vanuatu. At Frontier Financial Group we love what our clients and others do for our kids through education in our community. Pacific Assist is another way we can help support the wider community in education.
In 2018 Pacific Assist is expanding its focus to include education, health and well-being, economic development, and humanitarian projects. Pacific Assist is currently bringing together resources and expertise to implement a principal mentoring program in Vanuatu. Richard also plans to travel to Papua New Guinea in December to meet with government officials and community leaders to discuss potential Pacific Assist projects. "At the end of the day," says Richard, "the biggest reward is seeing smiles on the faces of the recipients, and knowing you have made the quality of their life a little better."
We gratefully acknowledge the generous donations of the following schools: St Mark's Primary School (Fawkner); St Matthew's Primary School (Fawkner North); St Bernard's Primary School (East Coburg); St Johns Primary School (Clifton Hill); St Mary's Primary School (Thornbury); St Joseph's the Worker Primary School (Reservoir North); St Stephen's Primary School (Reservoir East); St John XXIII Primary School (Thomastown East); St Luke's Primary School (Lalor); St Joseph's Primary School (Mernda); Blackburn Primary School (Blackburn); The Lakes P-9 School ​(South Morang).
---
Photos left to right: Handover in Samoa; Samoan primary students; Unloading Furniture in Samoa; Pacific Assist director Callum Blair with students in Tonga
---
'Furniture for Schools' Partners with LDS Charities to Deliver Furniture to Tongan Schools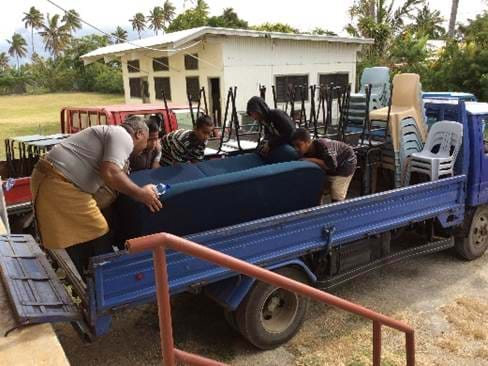 2 July, 2015 (posted by Carol Wallace LDS Pacific Newsroom): Furniture for Schools Charitable Trust partnered recently with LDS Charities, an organization of The Church of Jesus Christ of Latter-day Saints, to deliver recycled furniture from schools in Auckland to public schools in Tonga.
Schools are invited to donate usable furniture to be distributed to less privileged schools throughout the Pacific area.
The furniture delivered to Tonga was donated by Blockhouse Primary School, AUT University, Auckland Council Libraries, and Long Bay College.
John McLean, director and organiser of the trust, said, "The New Zealand schools have been quick to respond. They are grateful to see good furniture recycled and used."
LDS Charities facilitates the freighting and delivery of the furniture from Auckland to the final destination. Private companies assist in collecting the furniture from the different schools.
Mr McLean stated, "Our partnership with LDS Charities has made it possible for our organization to provide support to schools in need which are often found in Pacific Island groups."
The furniture was delivered to three schools in Tonga: Fungaonetaka 1 Kindergarten, Ngele'ia, and Tonga International Academy.
Pacific Area president of The Church of Jesus Christ of Latter-day Saints, Elder Kevin W. Pearson, recently spoke to youth about the importance of education, urging them to "Embark on a quest for education and learning."
"Our goal for 'Furniture for Schools," Mr McLean says, "dovetails on Elder Pearson's talk. We hope to encourage and enhance education by improving environments conducive to learning."
Mr McLean says they have more containers ready for shipment to other schools in the Pacific.
---
Photos left to right: Furniture donated by NZ schools loaded for delivery; Students at recipient school in Tonga; Tongan teachers with donated sports equipment.